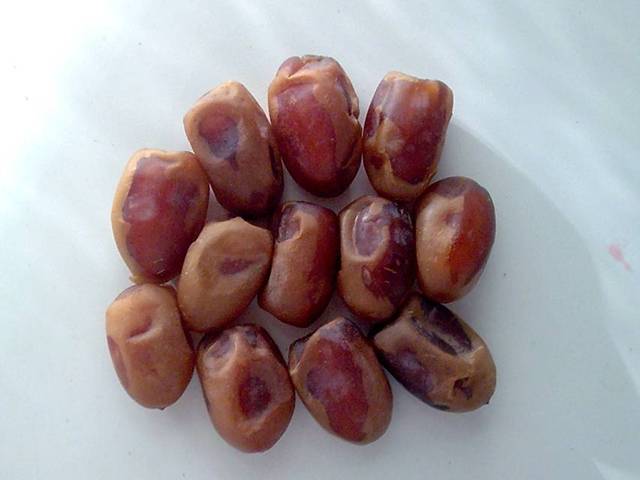 Gooey lumps of goodness
Seriously get them away from me before I become a date. I have eaten more in the last two days than I have in the last two months and if someone doesn't take this damn box of dates away I am going to eat every last one of them so help me I swear I will.
I know those of you living in US/UK are saying ewwww no thanks because you are stuck eating those crappy turds they call dates. Come visit me and I will show you what a true date tastes like. It's almost as good as chocolate. Almost.
Oh I almost forgot to mention:
He's baaaaaaaaaaaaaaaaaaaaaaaaaaack!!
Actually Jigger got back Saturday morning and it's been a hectic two days. I am hoping fingers and eyes crossed my SIL leaves Monday and everyone stops coming. The steady flow was just a mere trickle by Sunday afternoon so I am hoping hoping hoping it's over. Things can calm down. He and I can have a conversation that lasts for more than two minutes without someone msging, calling, and/or knocking on our door. There are moments when I just want to throw all of the gifts out the front door and say "have at it don't bother us take what you want" but that's not how it's done. I smile and pretend. Like always. Tradition first.
Hopefully I get my computer back tomorrow. Jigger had them do a total overhaul so it is getting new innards and some clothes as well. Super excited about that. I realize I am using his computer but it's not the same. It's not MINE. I need to use MINE because it's MINE. I have a thing with my things. No one but me touches them and I don't use other people's. It freaks me out. I literally will have a full blown panic attack if you touch my stuff. It's not even like my stuff is fancy or expensive or irreplaceable. It's just MINE and you can't touch it. There is no logical rational explanation behind this. It is what it is. So don't touch my stuff.
So maybe I'll be less whiney than I have been for the last two months, but most likely not. This is my place to whine. Not gain followers, be snarky or popular. It's my space to be the weak, whiney, nagging person that I am not in real life. In real life, I suck it up and push ahead. I sacrifice everything without complaint. I don't have to be asked. I just do. As much as I can. However all of that frustrations and resentments builds inside and if I don't let it out somewhere, then it comes out in unhealthy ways like me screaming at Jigger or sliding a cool blade which btw I have NOT done in a few months so I am super happy about that.
Happy dance.
I have had the urge but I haven't given in. Sometimes when we are lying down Jigger traces the scars with his finger. I know it makes him sad to see them, but I always feel calm looking at them. It's not something that I can explain. It just is what it is.
I have been exercising everyday except the last two and once I get my computer back I plan on starting again. I have been doing ZUMBA and it nearly kicks my ass, but I love it. It's easy for me to do especially with my back and leg being stupid. When I was in the states I had a treadmill which I miss terribly. It was awesome. I walked for miles and moons on that thing. That's what I have been up to the last few days. Don't worry we'll return to your regularly scheduled insanity shortly.